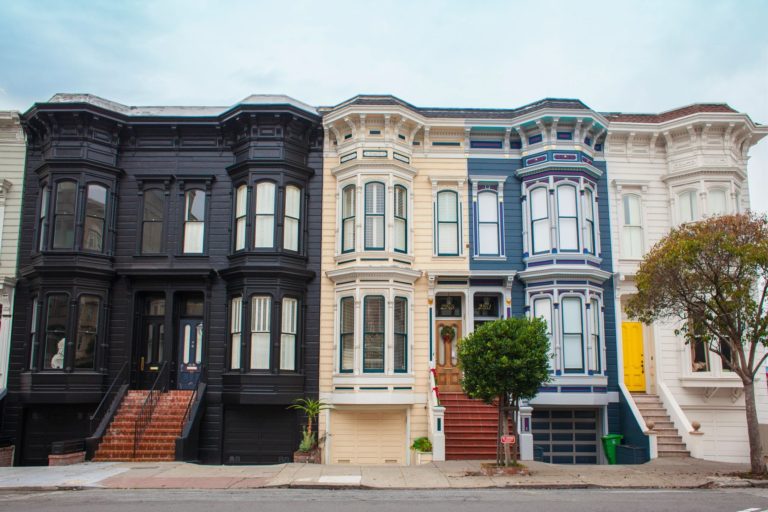 There is some evidence that the housing market in many urban markets have cooled. This cooling offers some hope for those who still want to enter the market but no doubt also generate some fear among those who paid premium home prices over the past few years. A series of public opinion surveys shows our how important owning a home is for Canadians. It also shows key barriers for entry.
Housing Ambitions
Owning a home is widely viewed as important with 86% of Canadians feeling that it is an important milestone (Zoocasa survey). As you would expect, housing status is strongly related to age (82% of Boomers own compared with only 47% of Millennials). Historically buying a home has been a rite of passage.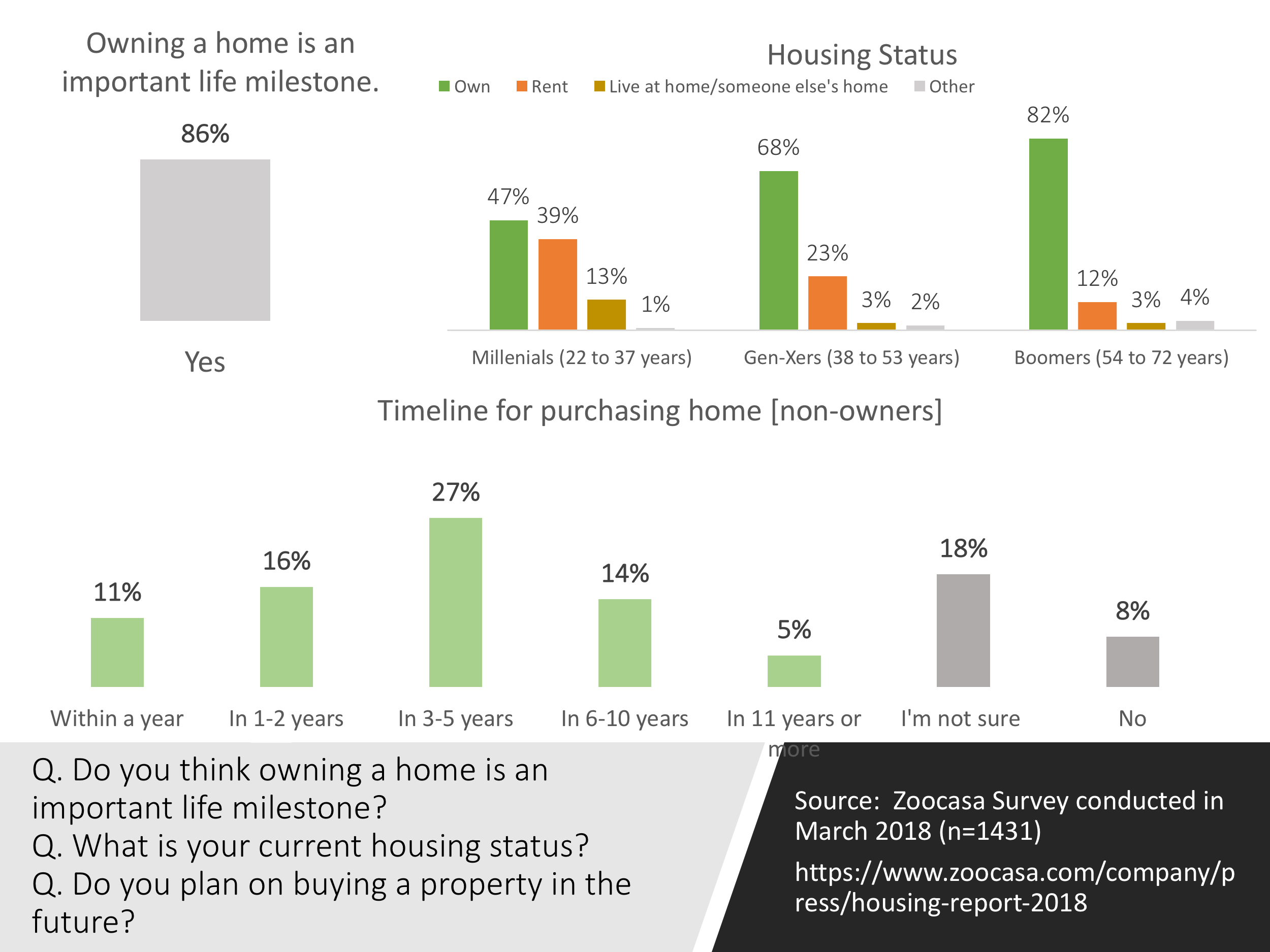 Certainly most non-owners intend to buy a home. More than a quarter (27%) intend to do so in the next 1 to 2 years. The Zoocasa survey results show more homeownership among Millennials than a CIBC poll conducted in March. Home ownership only approaches 45% among this older Millennials. Only 16% of those under 23 years of age own their own home versus 45% among those 30 to 37 years. The CIBC poll does show that most renters or those living in another situation (non-owners) intend to buy a home.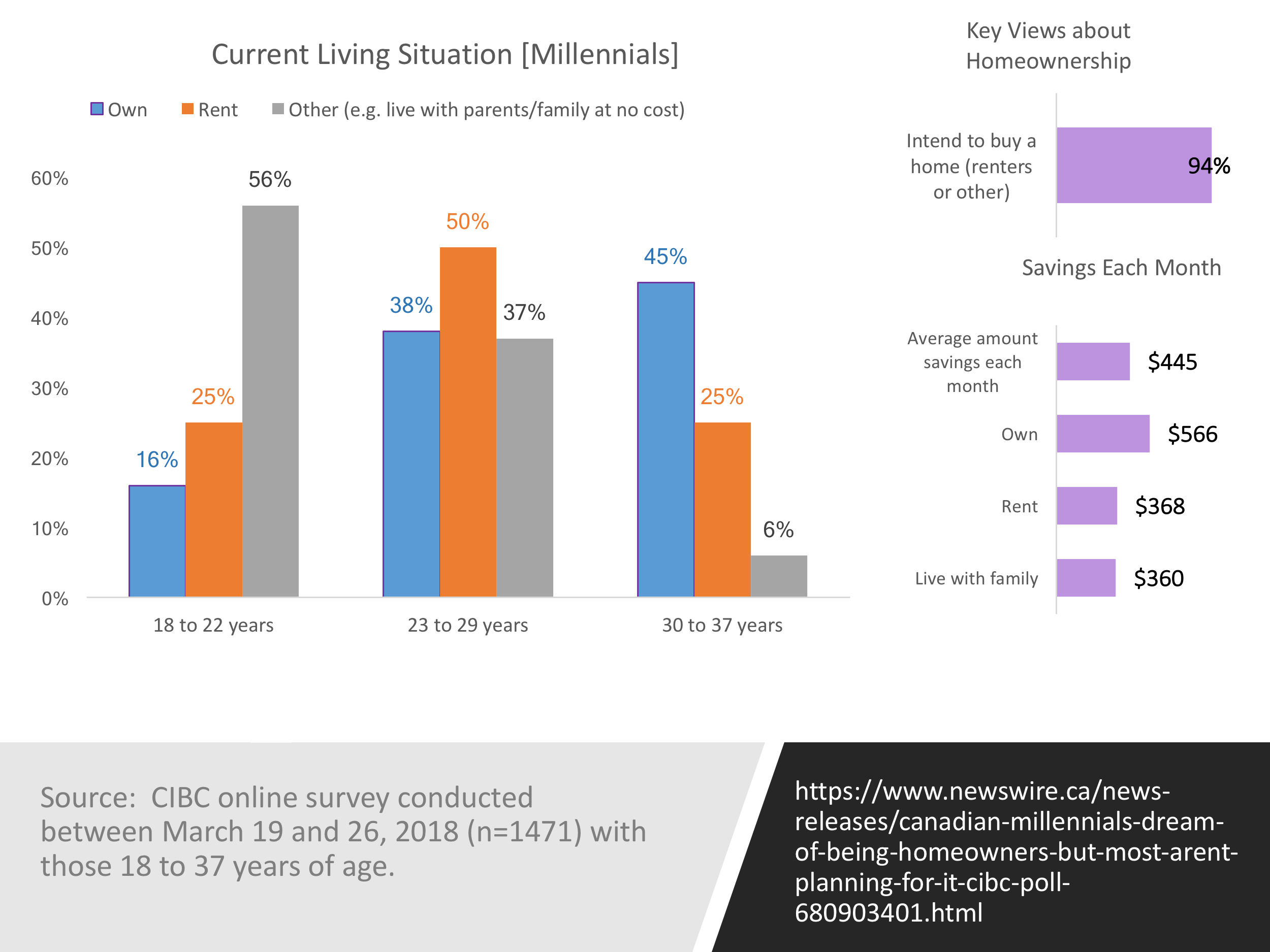 The high intention to purchase is important because of the strong link between owning a home and financial health identified in the next section. That said, both polls show that achieving the dream of home ownership will be a challenge and potentially a frustrating experience for people who don't already have one.
The CIBC survey found that the average amount of savings that renters have each month is only $368 per month. Achieving a downpayment at this level would be a challenge.
Overall among those who do not own, 38% have saved less than $5000 for a downpayment.
A further reflection of the importance of home ownership is the importance that Canadians who own homes place on staying in their home throughout their retirement. Three quarters of homeowners say it is somewhat or very important to stay in their home. There is a notable age difference and a small gender difference.
When it comes to age, younger homeowners are much less likely to think it will be important. Older homeowners (some of which are still homeowners because they view it as important) are almost universally of the view that it is important.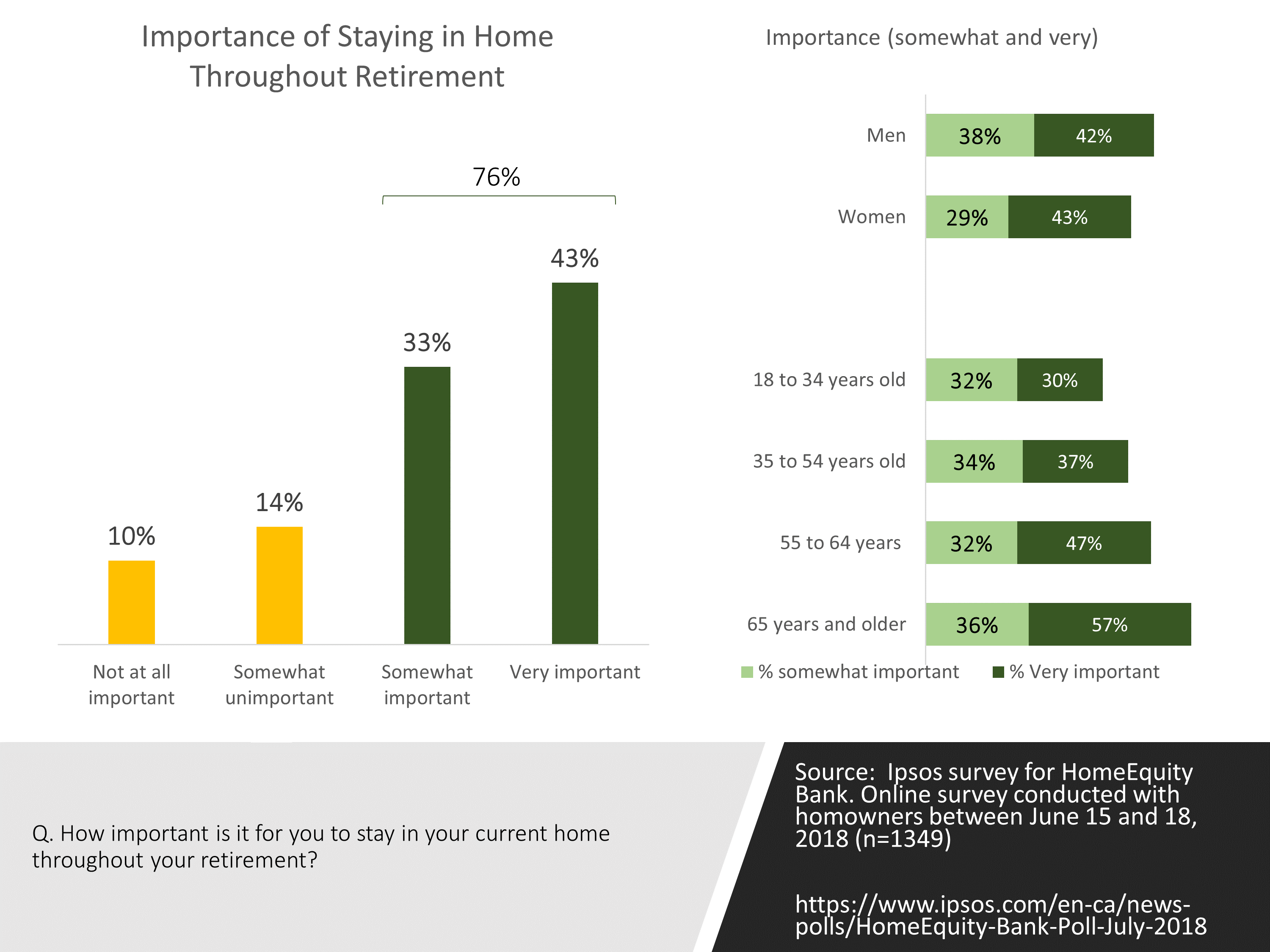 Housing Market
In general, Canadians continue to believe that owning a home is a good investment according to a recent survey conducted by Ipsos for RBC. This is virtually unchanged since 2015.
Intentions to buy bumped up in 2018 according to the same survey with 32% of Canadians somewhat or very likely to purchase a home or another home in the next two years. This compares to only 25% last year. Softening prices may entice some to purchase sooner rather than later as will the potential for interest rates to rise.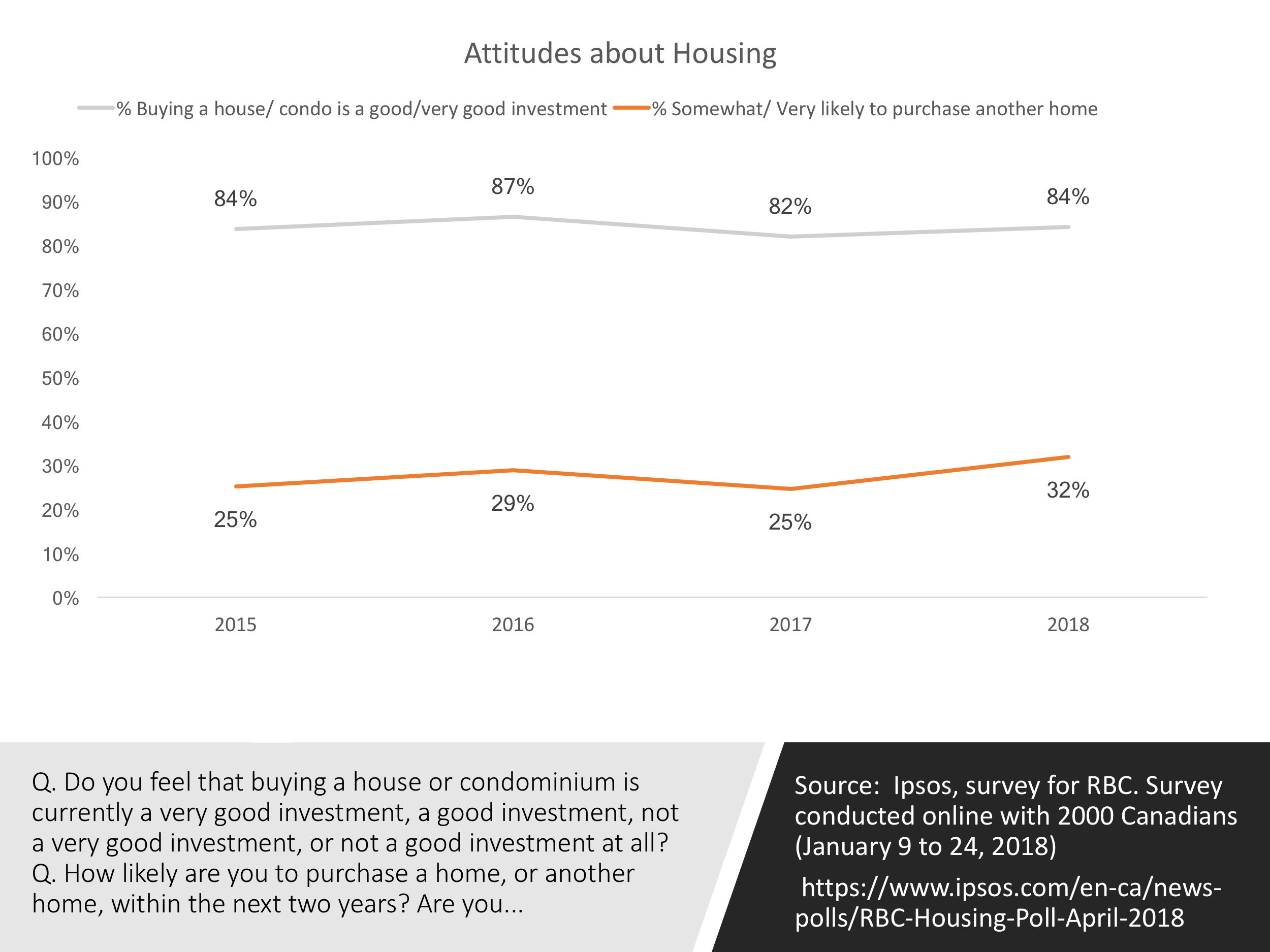 Housing as an Indicator of Financial Health
Owning your own house is a sign of financial health. A recent survey conducted for Genworth in conjunction with the Canadian Association of Credit Counselling Services (CACCS) shows that 60% of Canadians who are a homeowner feel they are in at least pretty good financial health compared with only 38% of those who do are not homeowners.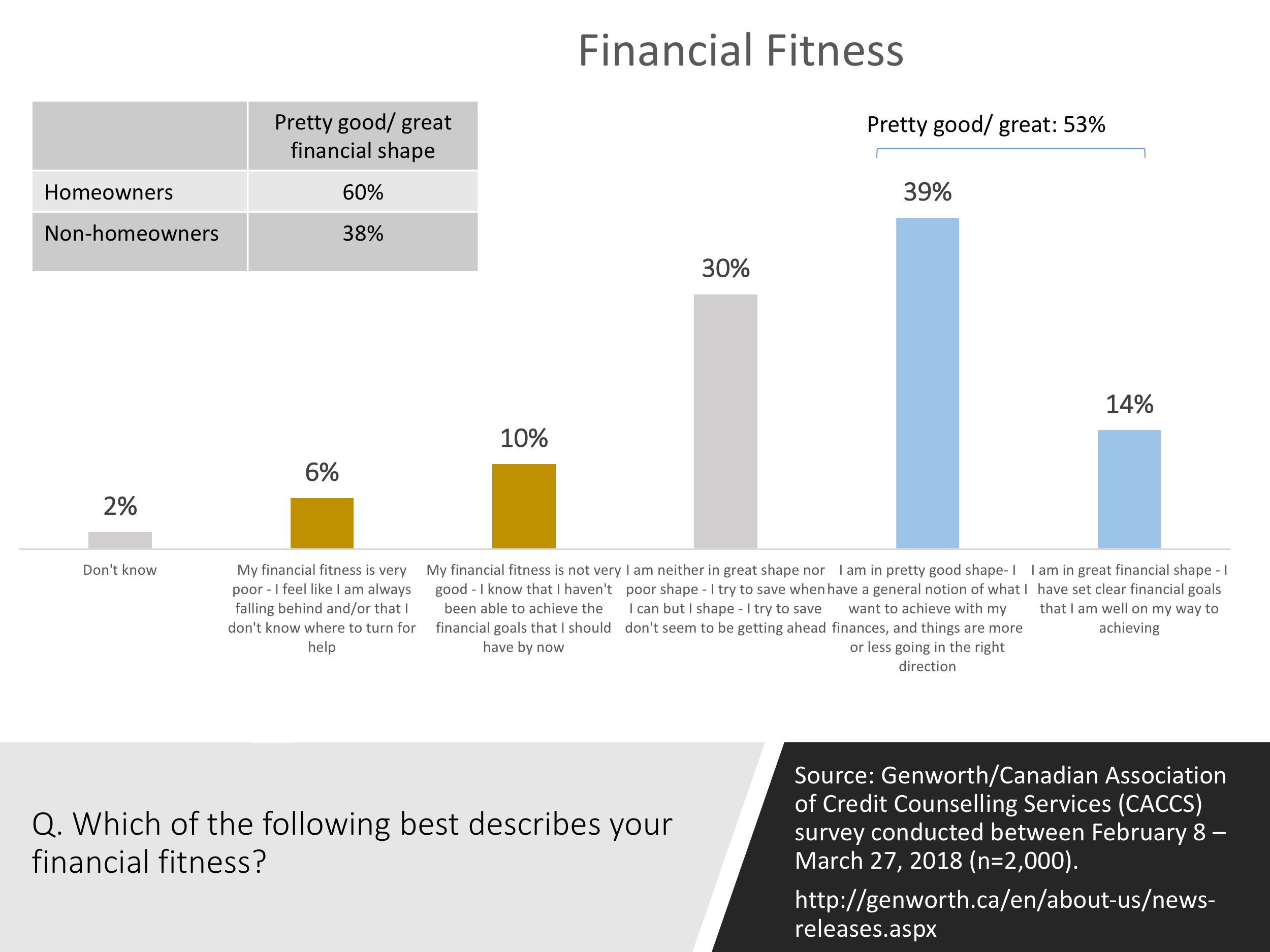 Implications
The dream of homeownership remains firmly entrenched in the Canadian public with almost all of those who do not own a home wanting to do so in the future. We might ask ourselves if this unrestrained desire for owning a home has contributed to many Canadians entering the real estate market and taking on debt they cannot afford. Certainly, Canadians report living close to the edge. Nevertheless 32% of Canadians intend to buy a home/ another home in the next two years.
For young people the home ownership may end up being out of reach. Given higher expected interest rates and only a small abatement in prices, the quick entry into the housing market that so many young people want may not be possible. This is problematic because we know that those who have homes do feel more financially secure and because it contributes to the feeling among younger people that their financial future is not as secure as that of their parents.
---
Sources:
CIBC online survey conducted between March 19 and 26, 2018 (n=1471) with those 18 to 37 years of age. Release
Ipsos, survey for RBC. Survey conducted online with 2000 Canadians(January 9 to 24, 2018) Report
Ipsos survey for HomeEquity Bank conducted online with 1349 Canadian homeowners between June 15 and 19, 2018. Report
Genworth/Canadian Association of Credit Counselling Services (CACCS) survey conducted between February 8 – March 27, 2018 (n=2,000). Report
ZoocasaSurvey conducted in March 2018 (n=1431) Report