Inevitably race was going to be raised as a factor in the justice system when Gerald Stanley was found innocent of the death of Colten Bouchie. Consider that the not guilty verdict was provided by a jury that did not have any Indigenous jurors despite the large Indigenous population in Saskatchewan. The defence was permitted by the legal process to effectively remove these people from the potential jury.
While Canadians are largely divided about the verdict in the "Bouchie" case, they are not particularly divided when it comes to reforming the jury selection process according to a recent Angus Reid Institute Survey. Perhaps Canadians understand that even if the verdict would have been the same, the lack of a jury reflecting the composition of the community undermines the idea of blind justice.
Of those who were aware of the case, only 30% thought it was good and fair compared with 32% who felt it was flawed and wrong. The remainder (38% can't say). So despite the profile and the survey being conducted close to the verdict almost 4 in 10 were not able to make a judgment.
Many Canadians were simply not paying much attention. Only 49% were either following it in the news and discussing it with friends and family (18%) or seeing some media coverage and having the odd conversation about it (31%).
Asking Canadians to weigh in on the appropriateness of the jury is a challenging task given that their level of attention to the proceedings was low and must rely on coverage at the time and the post-verdict reaction. Cases are tried in courts for a reason.
There is always a risk that the public brings its own biases and stereotypes to evaluating the jury decision, especially in a case where the verdict is challenged. Nevertheless, how Canadians respond is interesting. The split view certainly suggests that the public is not wholly convinced that justice was seen to be done.
And, there is a clear view that there is a need for reform — 59% say there needs to be reform compared with 41% who think this is how juries work. Women and young people are most onside for reform as are those who voted Liberal or NDP in the last election. Almost all (89%) those who thought the decision was flawed and wrong think there needs to be reform and 60% of those who were unsure about the verdict. The question directly asks about a core justice value.
So while Trudeau's intervention/ reaction after the verdict (46% said it was inappropriate for the Prime Minister to personally respond to the Boushie verdict) was not endorsed the message of the need to reform largely hit a responsive audience.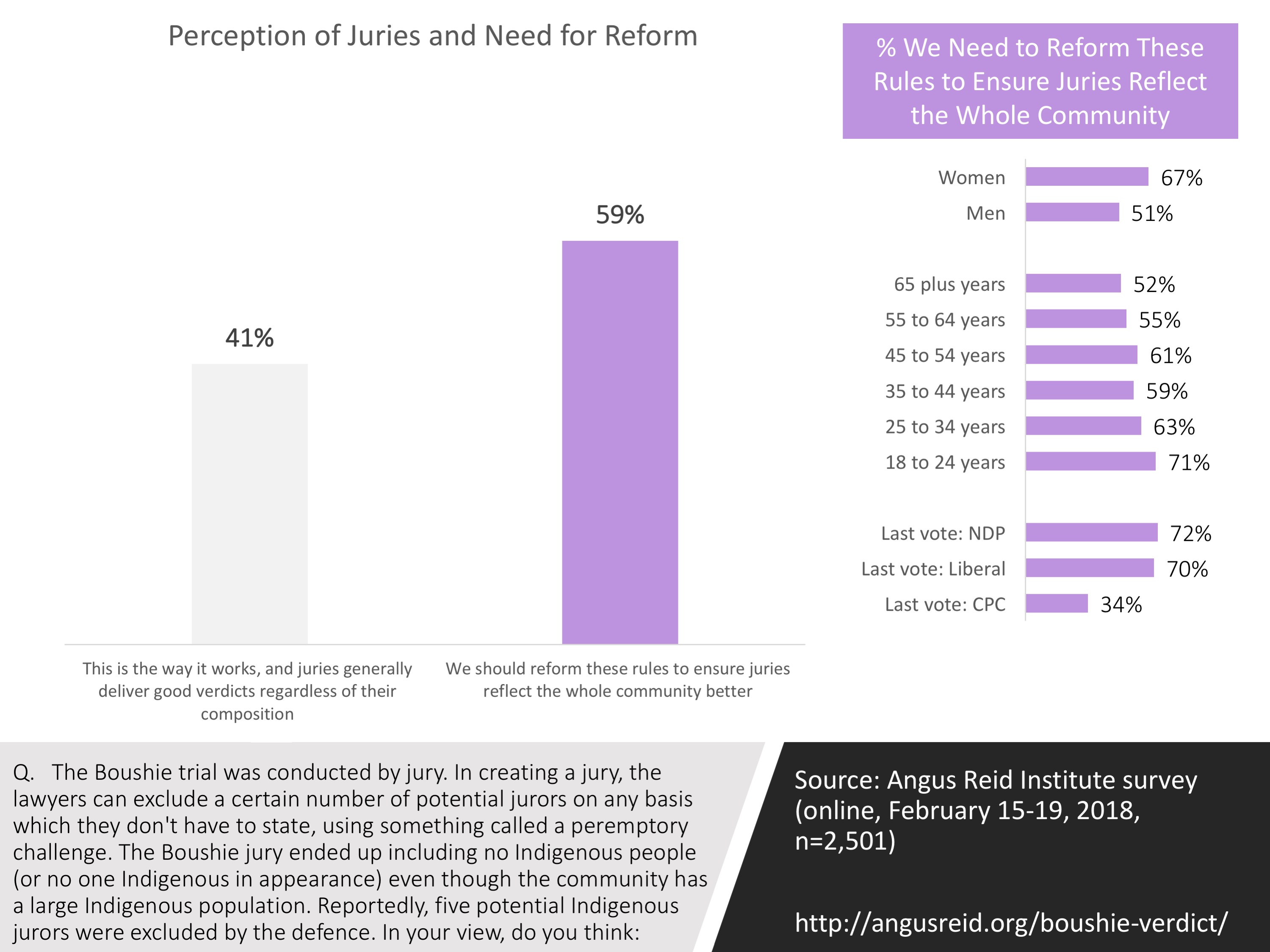 ---
Source: Angus Reid Institute, online survey conducted between February 15-19, 2018 (n=2,501). Link.