Even after being reminded that the government has already spent $350 billion on the pandemic, support remains high for further spending. Thirty per cent are comfortable and 28% are somewhat comfortable with Trudeau's commitment to support "people and businesses through this crisis as long as it lasts, whatever it takes." This according to a Nanos-Bloomberg survey at the beginning of October.
Comfort is high across demographic groups with a couple exceptions. Men (49%) are much less comfortable than women (66%). Those living on the Prairies and Quebec are less comfortable.
Pandemic spending is a critical question. The second wave of the virus has the potential to further the economic damage to businesses (and therefore individuals). It is also critical to understand that there may emerge a significant opposition to spending, especially since not everyone benefits. Seniors have not been as impacted (the stock market recovered) and most public servants have not lost employment income.
At some point they might balk at the fiscal impact of supporting the rest of the population. We may be in the early stages of that movement. For now, a majority is comfortable with the pandemic spending.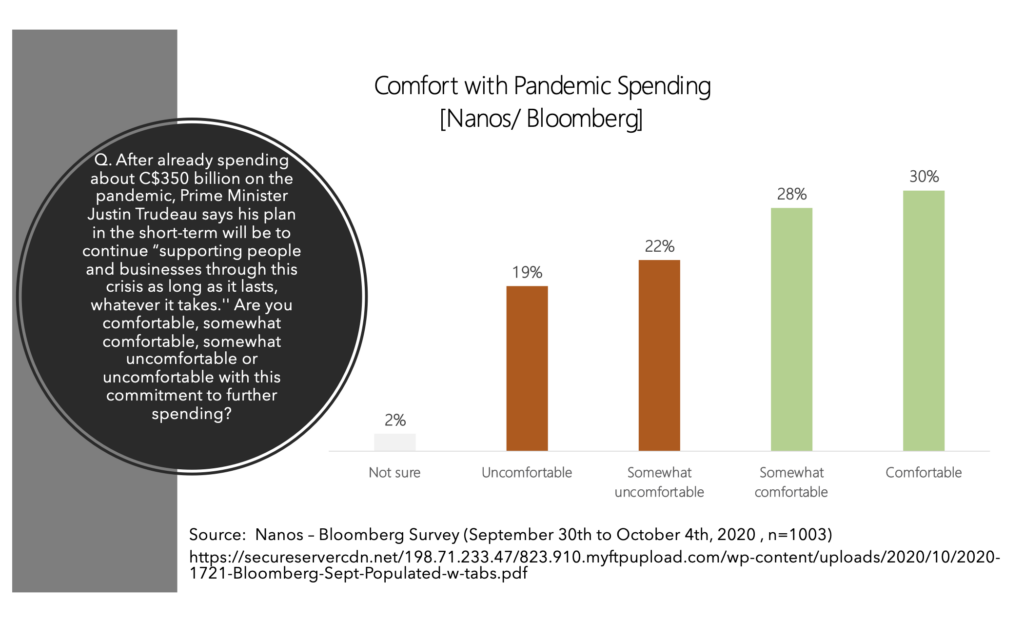 ---
Source: Nanos-Bloomberg survey (September 30th to October 4th, 2020, n=1003). Original post.