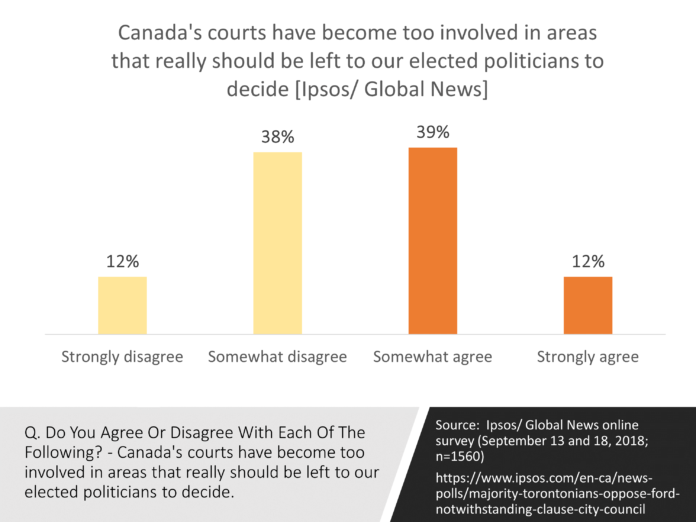 Doug Ford threatened to overrule a court decision with the notwithstanding clause recently. The court decision invalidated a law that was to reduce the size of Toronto's city council. Ford justifies his decision to overrule the courts on the basis he was elected by the people and the courts are not. Of course, this seemed to reflect a complete misunderstanding of the role courts must play if a democracy is to flourish. A democracy that does not protect rights, particularly those of minorities, does not treat everyone equal.
The Ipsos/ Global News poll conducted after Ford announced his intention of using the notwithstanding clause found that less than half of Canadians support using the notwithstanding clause for this purpose. In addition, less than half of Torontonians and Ontarians support using it. Ford was elected but he is not expressing, in this case, the will of the public.
The broader question of the role of courts is important. On this question a slight majority of Canadians (51%) agree that "courts have become too involved in areas that really should be left to our elected politicians to decide." Men and older people are slightly more likely to agree. People with lower levels of completed education are also more likely to agree. These differences are one of degree though.
It may be a natural concern about ceding control to an unelected body that drives these attitudes. Coupled, of course, with a desire for democracy to win. A large majority (68%) view Ford's behaviour in this case as undemocratic. There is general concern about the role of courts versus politicians but the courts are largely supported in this case.
---
Source: Ipsos/ Global News Poll conducted online between September 13 and 18, 2018 (n=1560). Release.