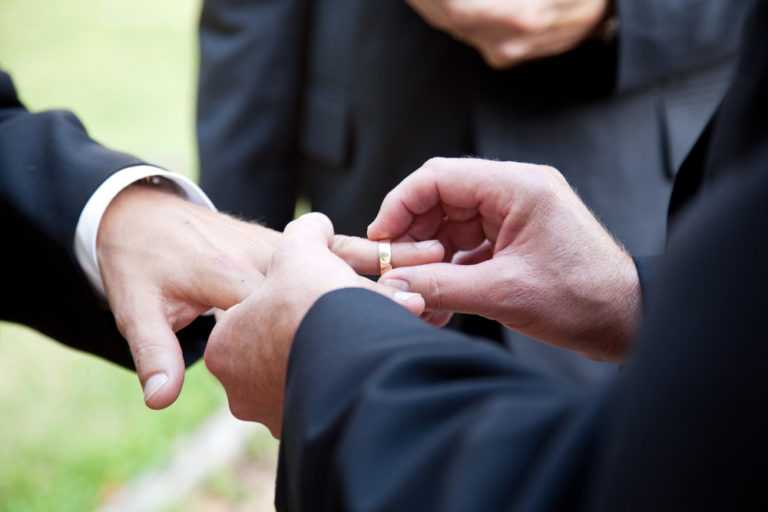 The evolution of Canadian beliefs about same-sex marriage provide an interesting example of dramatic changes that both presupposed and reacted to court decisions. Although history seems like an inevitable march toward granting and accepting same-sex marriage, in 1999 a federal vote maintained the traditional definition of opposite sex relationships. While courts and Parliament were extending the same rights, the actual inclusion into the institution of marriage was being denied. Public opinion was divided and offered little in specific guidance.
Rising tolerance toward LGBQT relationships
Our lexicon for referring to LGBQT has changed over the last three decades so the questions at one level appear antiquated but they are illustrative even if they no longer capture our current language around these issues. For example, the Canadian Election Study (CES) uses the word homosexuality in its tracking question. All the data shows increasing positive attitudes that are consistent with the court decisions throughout the 1990s.
Environics asked as part of its Focus Canada study, Canadian attitudes toward homosexuality. In 1987, 10% indicated that they approved of homosexuality (there were many unsures (30%) this year and in 1996). By 2004, this number reached 47%. Even setting aside the very low year of 1987, the increase from to 47% is remarkable.
The Canadian Election Study asked respondents to rate homosexuals (Gays and Lesbians after 1993) on a scale from 0 to 100. The average rating for each survey rose from 45.5 to 73 out of 100 in 2011.The outsider nature of the community has broken down substantially in the last decade, particularly after 2004 (between 2004 and 2011 the average rating has increased much more than it did between 1993 and 2004).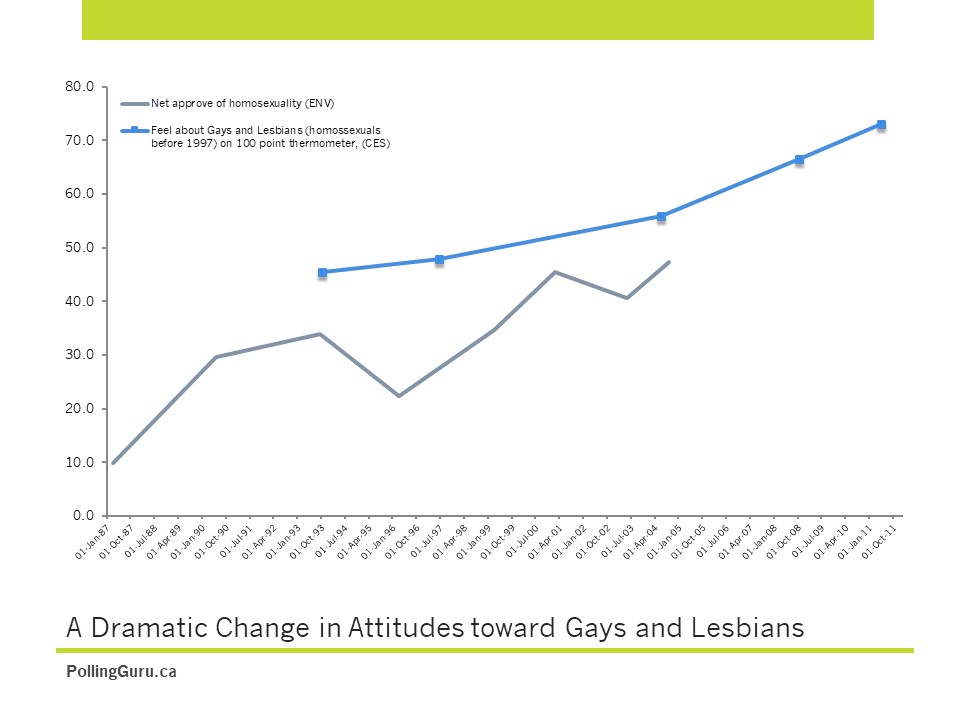 Divided support for same-sex marriage
The chart below shows polling on the question of marriage over time from four polling firms. There were many other polls but often the questions were only asked once and this provides a very interesting as it is.
The CES surveys, which cover the longest period, show agreement that Gays and Lesbians should be allowed to marry rises significantly between the 1997 and 2000 elections. Note that in this period, the Supreme Court had ruled that same-sex couples have the same benefits and obligations as opposite-sex ones. The question of marriage was definitely on the agenda. Nevertheless, just 50% supported marriage at this time.
As the issue heated up, more polling was taking place and polls showed relatively little movement in attitudes. Most trend lines were not moving dramatically in either direction but overall most were showing support for same-sex marriage hovering around 50% depending on whether respondents were explicitly given an unsure or neither category (this is why the Ekos trend line is lower). All trend lines tend to be more positive once Parliament acted in a manner consistent with the court rulings.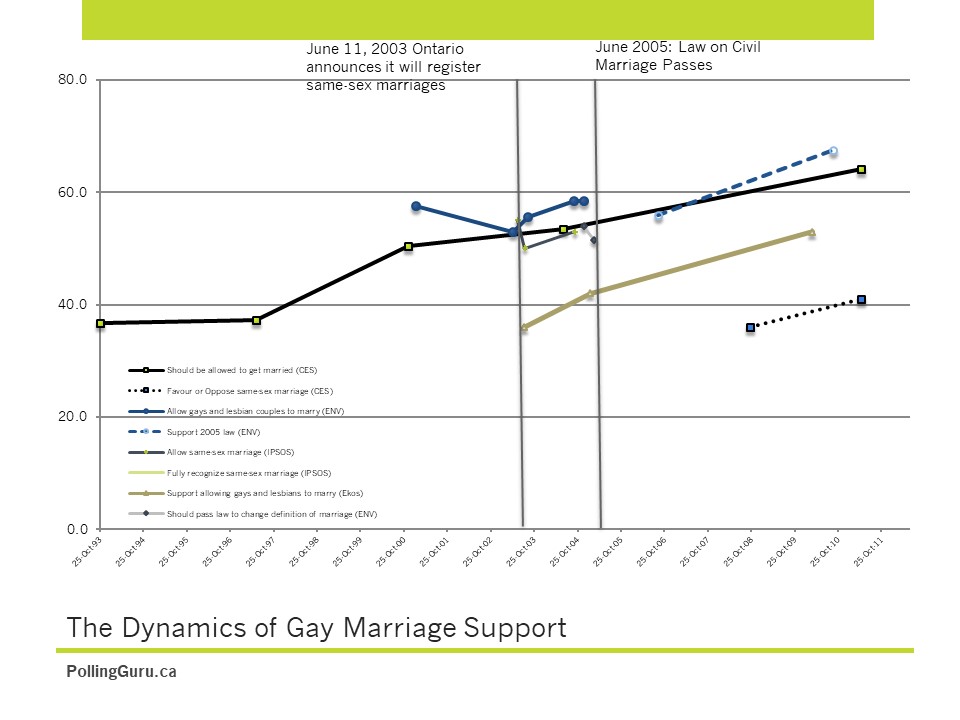 A more complete analysis of what occurred is available here. The key is that a dramatic movement on the issue of tolerance around sexuality provided a probably necessary but unlikely sufficient condition for public acceptance of same-sex marriage. Courts provided important contributions and the public responded positively to the new political norm established after Parliament effectively responded to the Court lead and institutionalized same-sex marriage.