We have reached a pivot point in the COVID-19 impact in Canada. While Canadians were slow to become concerned with the impact of Coronavirus in Canada, they quickly became more concerned when governments started acting. Most also responded by following health guidelines and reducing social distance. The health message of patience, vigilance and focus on social distance is quickly, however, becoming irrelevant.
Public concern with the Coronavirus is declining overall and could easily crater. If it does, public health officials will be facing the worse situation — calling for behavioural change when the public is loosing its sense of urgency. In addition, we are at risk of moving toward a divided public. One side too fearful to contemplate getting back to normal and the other side too anxious to return to public life.
Personal Concern with COVID-19
Concern with Getting the Virus
After surging between March 8 or so and March 20, concern with personally getting sick levelled off. It now appears to be declining. The Angus Reid Institute trend which ask about how concerned you personally becoming sick is the longest trend. On this question concern is now declining from a peak in early April. Leger also has consistently asked about concern over time. The Leger surveys, conducted in partnership with the Association for Canadian Studies (ACS), also indicate a decline in being personally afraid.
The decline sets up the potential for public support for existing social distancing measures to also evaporate.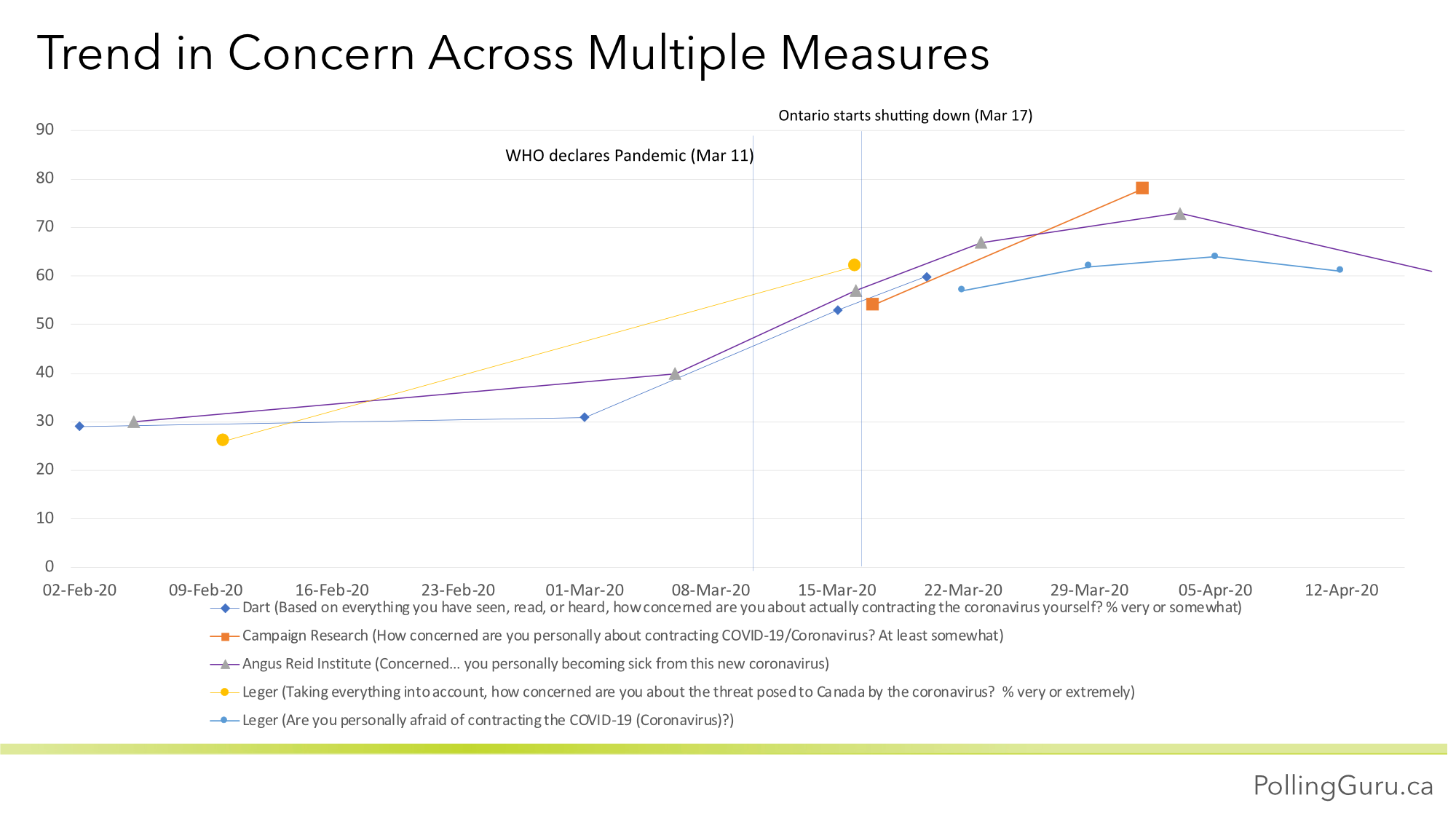 The Perceived Threat
Concern, of course, is a reflection that Canadians largely saw this as a real threat. There is not unanimity. In early February, more than two thirds felt that the threat of a Coronavirus outbreak was overblown. By the third week of March the Angus Reid Institute found that 80% of Canadians believed it to be a real threat.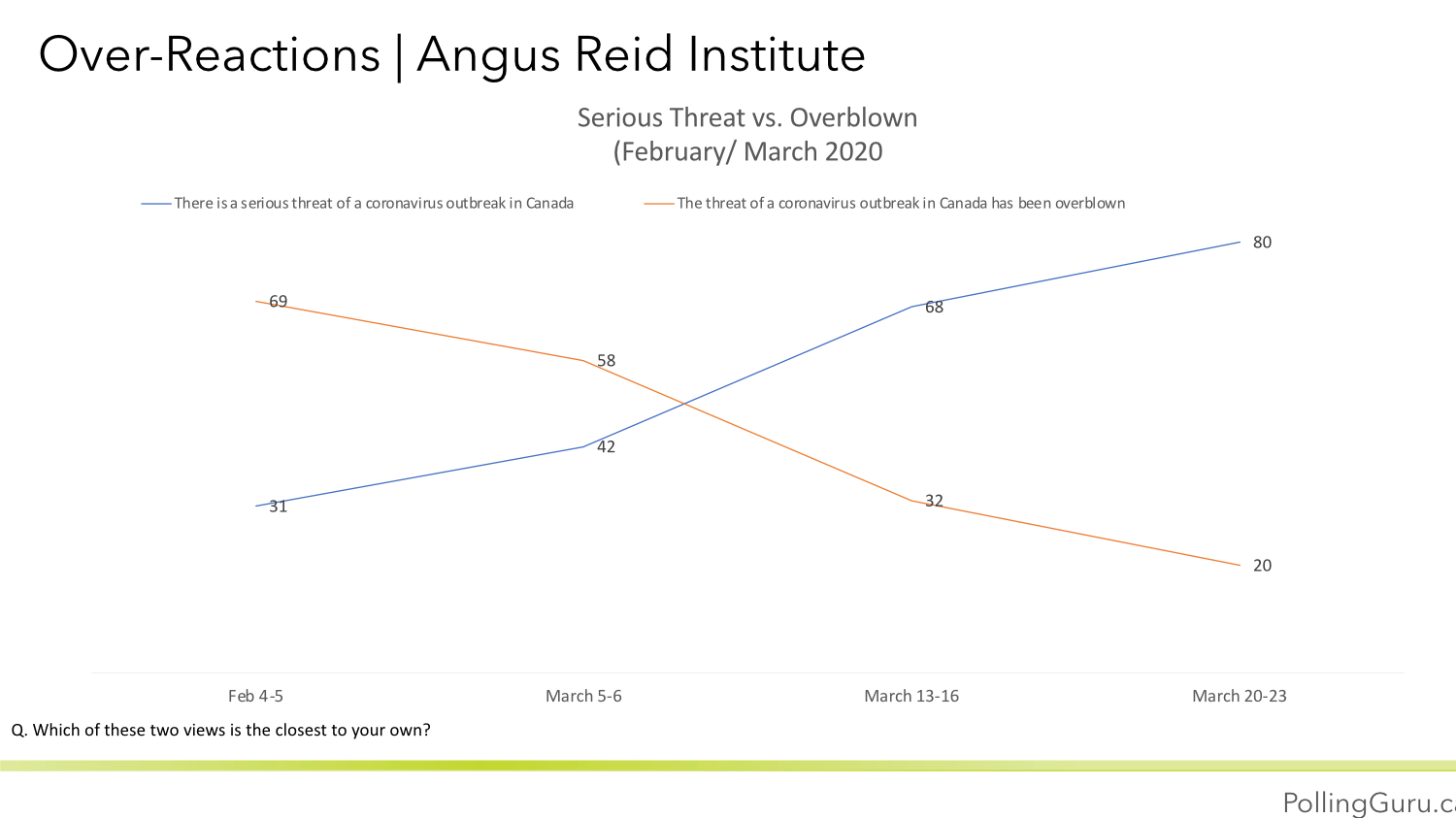 The Leger/Association for Canadian Studies (ACS) surveys also asked Canadians to evaluate the extent of the threat. Although the timeline does not go back as far as the Angus Reid Institute surveys, it extends into April. The share of Canadians who think there has been a correct or partially correct level of response to this real threat is 84% in the last poll. Fifteen per cent think it is being at least partially blown out of proportion.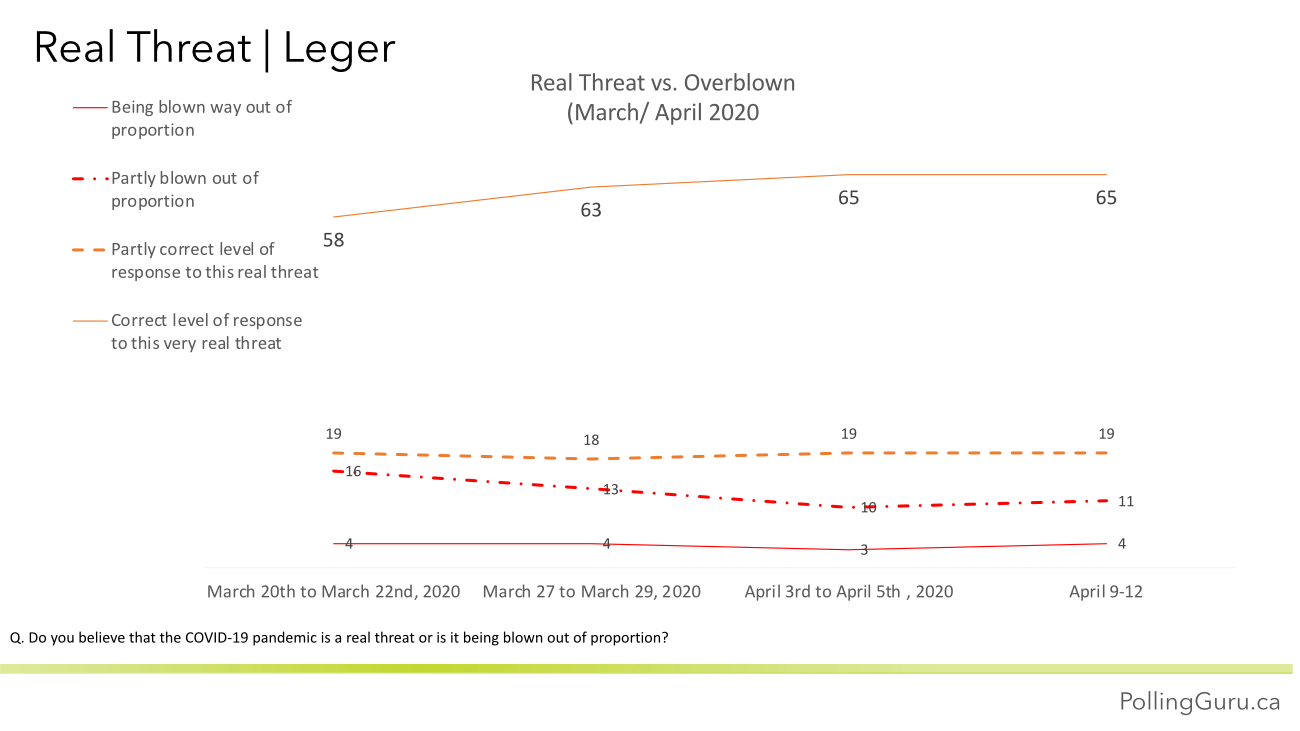 Expectations
Lifting the Restrictions
In the past two weeks, both Leger and the Angus Reid Institute have asked about when we should lift the restrictions. The Angus Reid Survey, April 15-17, shows that most people continue to think that it is too soon. Not surprisingly, given that one in five people are not concerned, 17% think we should start lifting them now.
The Leger/Association for Canadian Studies (ACS) surveys included a version of the same type of question. Here only 7% want the restrictions lifted now. That said, 18% would lift them when the pressure on the health care system has reduced. Arguably that condition has been met. Interestingly, one in five think we should wait for a vaccine. Since the timetable for a vaccine is unknown, this is a remarkable unwillingness to consider having life get back to normal.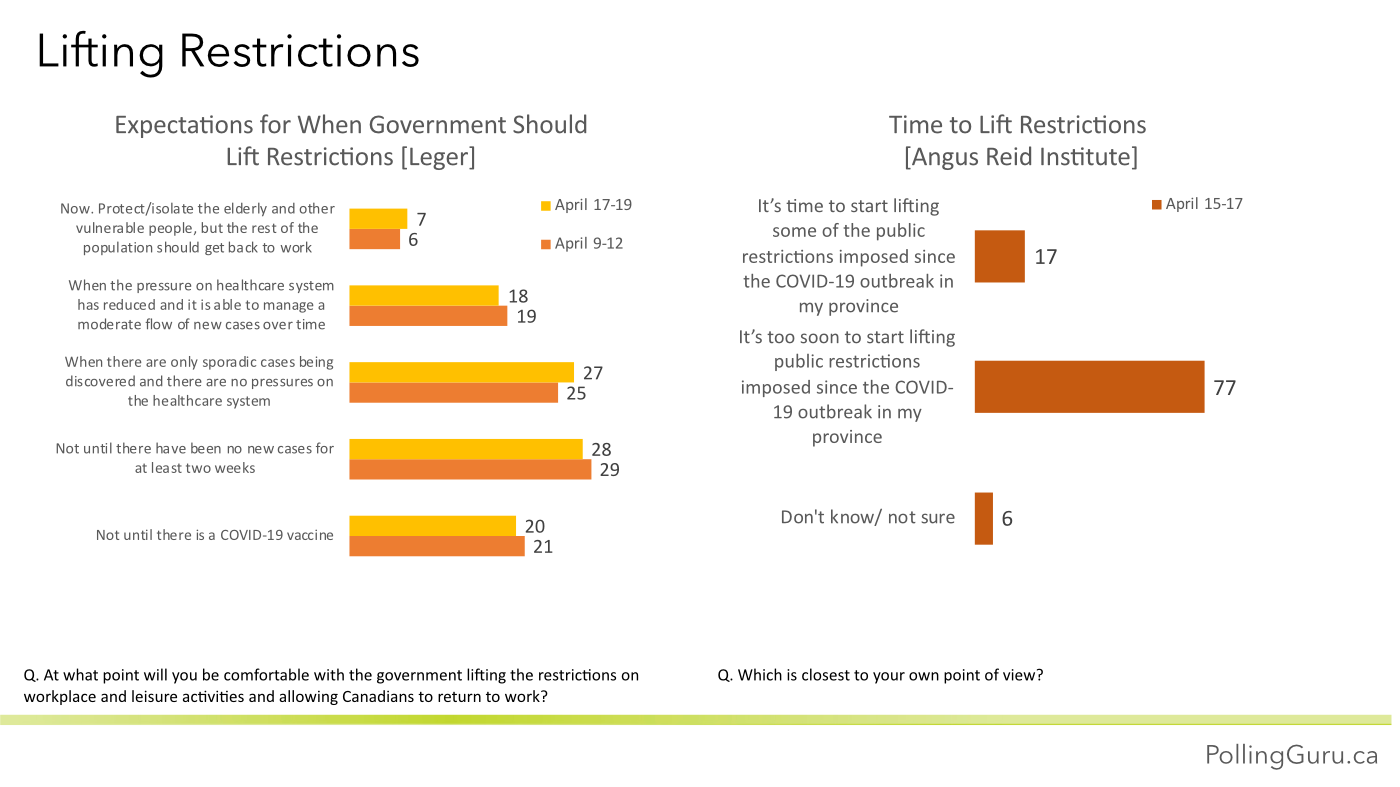 A Dart and maru/Blue poll that was in field March 27-29, 2020 has a similar perspective. Few people wanted to let people go back to work at that time given the risks. Interestingly, the plurality is to keep the present course with government support until things are manageable within the health care system. In most of the country, we are at the manageable stage.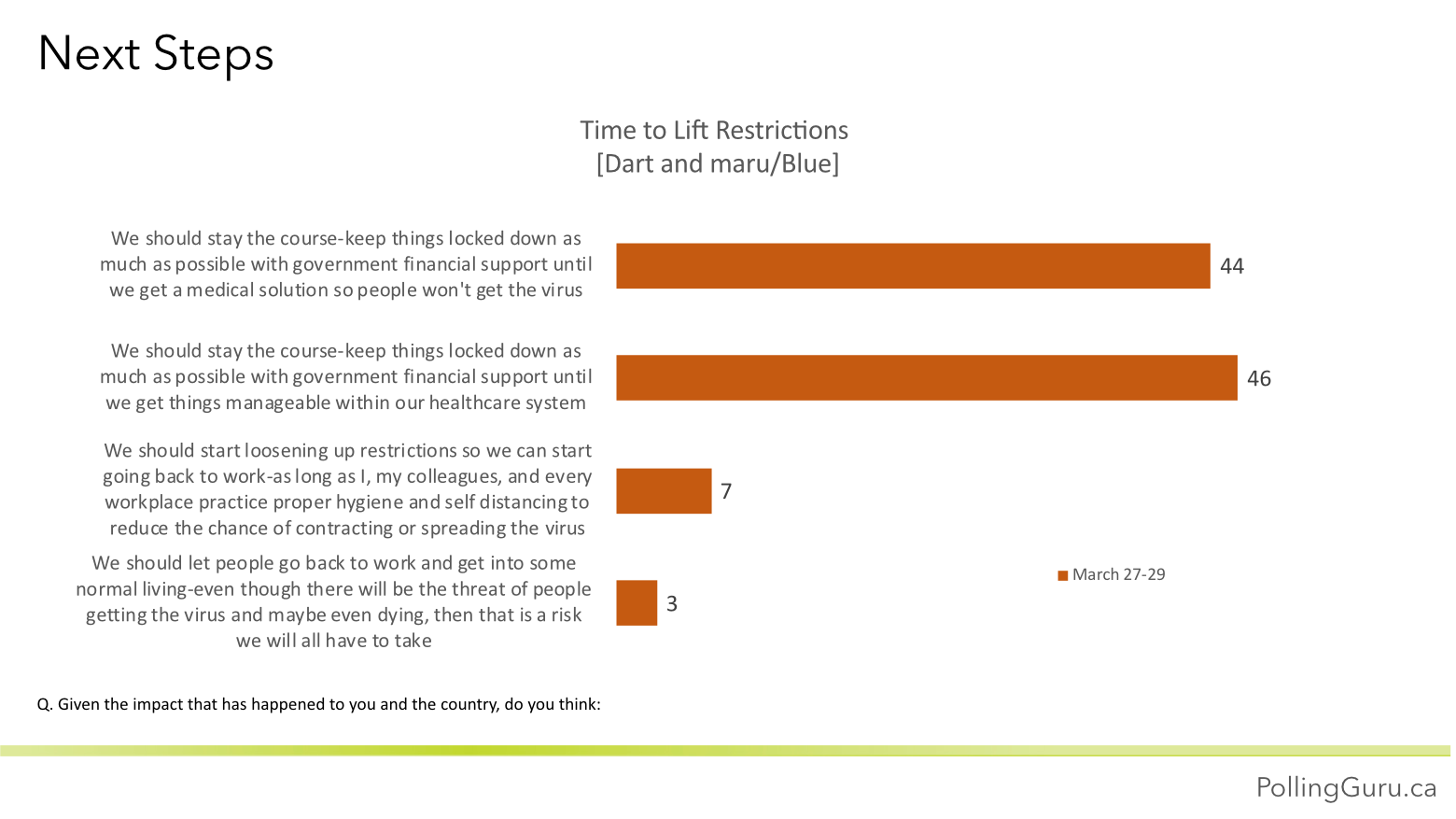 Implications
We can safely say that Canadians did not see this coming. But even governments were caught flat-footed in a number of ways. That said, Canadian governments have largely received positive reviews for their handling of the crisis, but they need to be wary as they navigate the next two to three weeks.
There are certainly at least 3 segments of the population. The unconcerned/ think it was overblown represent a minority. Those who are becoming less concerned and see a path forward — fewer new cases and having this manageable in the health system. Finally, there are those who concern trumps other considerations and are in this for the long haul. The size of these groups is likely to shift.
So what should government do? The simplest thing to do is to shift the communication around social distancing. Constant reminders of the need for social distancing and the rigid enforcement of these rules needs to give way to a more nuanced communication and enforcement strategy. We don't need to see Dr. Theresa Tam extolling us to maintain distance on television and social media. Canadians have largely followed that advice.
Let's face it. Restrictions will be lifted soon. Since they will be lifted slowly, we need a different message. Communications needs to set the framework now for how we need populations to act.
As a comparison, consider some of our other safety related policies/laws. The police don't stop everyone who is speeding on our roads. Even though there is a relationship between speed and the consequences of accidents, we do not charge every offender. Partially, because we can't. Social behaviour is to drive a little faster than limits. Police have discretion and focus on egregious acts. Extending this example to the current crisis, we don't need to message or enforce to get 100% compliance.
My sense is that messaging needs to do three things right now. First, focus Canadians on protecting the most vulnerable and providing them strategies to do so. Second, invite Canadians to socialize primarily with people they know and to social distance as much as possible from strangers. This makes it much easier to implement testing and tracing if we are not interacting with people we don't know. Third, get Canadians to imagine the transition as we start reducing the social distancing rules. Thoughts?
---
For information about the polls on COVID-19, please see the post containing links and demographic information.