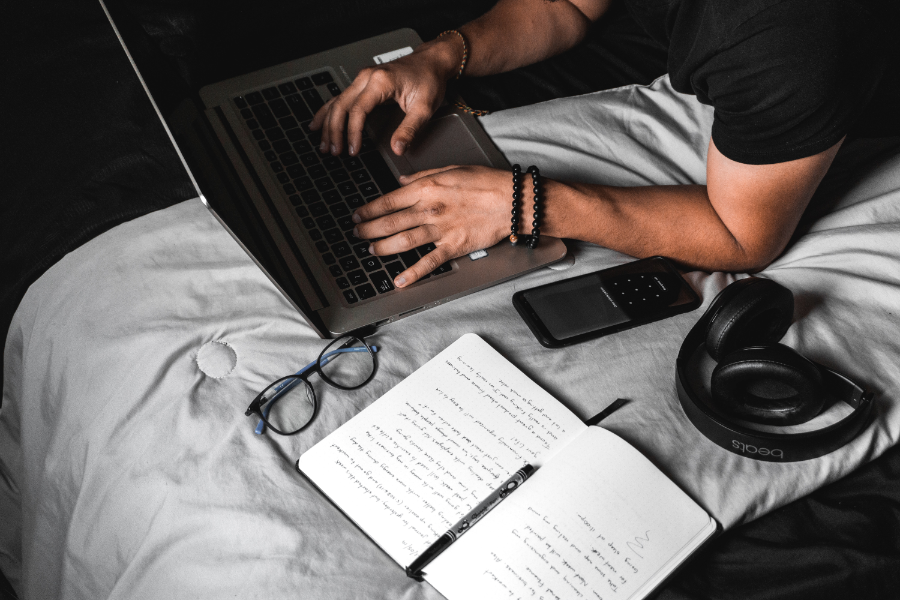 Predicting the future is always a task for the brave or the foolish. When history offers clear lessons, our predictions can seem reasonable and even turn out right. But, history offers little to help us understand the Post-COVID-19 workplace. Nothing has impacted Canadians as significantly as this in the past 50 years. Nevertheless there is naturally lots of speculation. The public has been asked about a post-COVID-19 world, so let's start there.
If we were to blue sky speculate about the future, what would we be most interested in? How could our new normal be different than the one we had pre=COVID-19?
Eating out and going to public places for entertainment
In-person retail
Work patterns, particularly working from home and its implications for commuting and our downtowns
Travel and tourism
These are a good list because they touch on the three ways the crisis will impact our lives long-term. First, elevated fear and concern has the potential to change what people like to do. Second, in the weeks of social isolation, we have adapted new ways of doing things from purchasing things to work. Third, the virus threatens industries and businesses that might not survive (in some cases accelerating the decline of businesses that were already challenged).
There are notable challenges in making a prediction. We don't know what phrases like the crisis is over or things return to normal mean. Is it defined by businesses opening up and the economy working or is it when there is a vaccine? Some sort of social distancing effort combined with testing and tracing will continue until there is a vaccine but that is a moving target. It could be months or years.
When we ask Canadians to speculate about the future they are doing so from a position of informational weakness themselves. And, they are doing so under the cloud of emotion and concern. Concern is going down but it still elevated.
And consider the question below about when people expect their household will return to normal. Provinces are taking tentative steps to open up the economy now that the curve has flattened, but people are still contracting the virus. Only 11% say immediately and 28% as soon as the number of new cases declines significantly. This suggests that there is an openness for about 40 per cent of Canadians to move quickly to do more things once things open up.
Here we visit the question of work. Will we embrace working from home in a new post-COVID-19 workplace?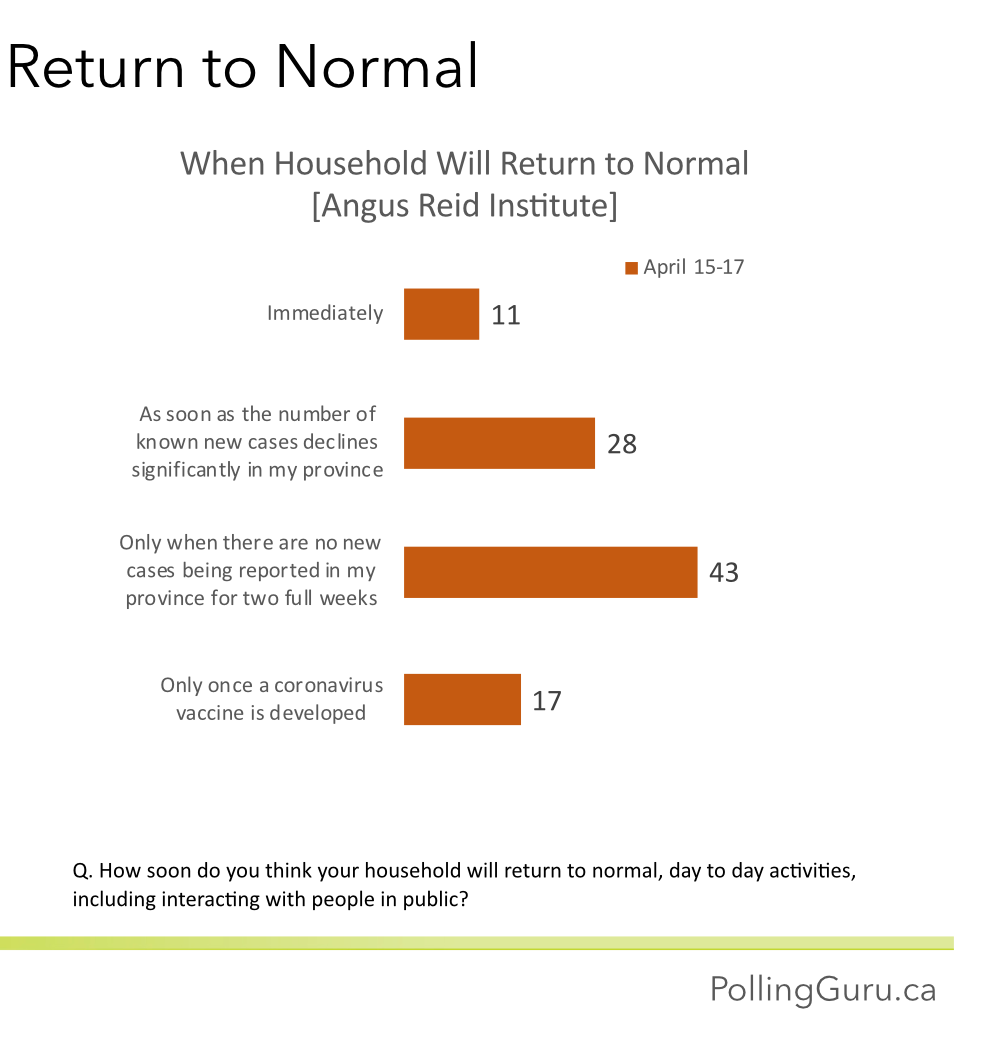 The Post-COVID-19 Workplace
I argued elsewhere, that we can think of work as being defined by three periods of time over the past 40 years. Before the 1990s, we generally worked in a low tech, hierarchical, slow and locally, physically defined workplace. As technology changed work in the 1990s and the beginning of the century we entered a transition period. We retained some of the remnants of the past (e.g. hierarchical control) but work was more global and high tech. It is only recently, that we moved into our work anywhere/ work everywhere culture.
Obviously, not all businesses or sectors have embraced the modern work culture. But everything from the gig economy to the more collaboarative, flattened workplaces of today embrace many of these elements. And, of course, working from home aligns with the modern work culture.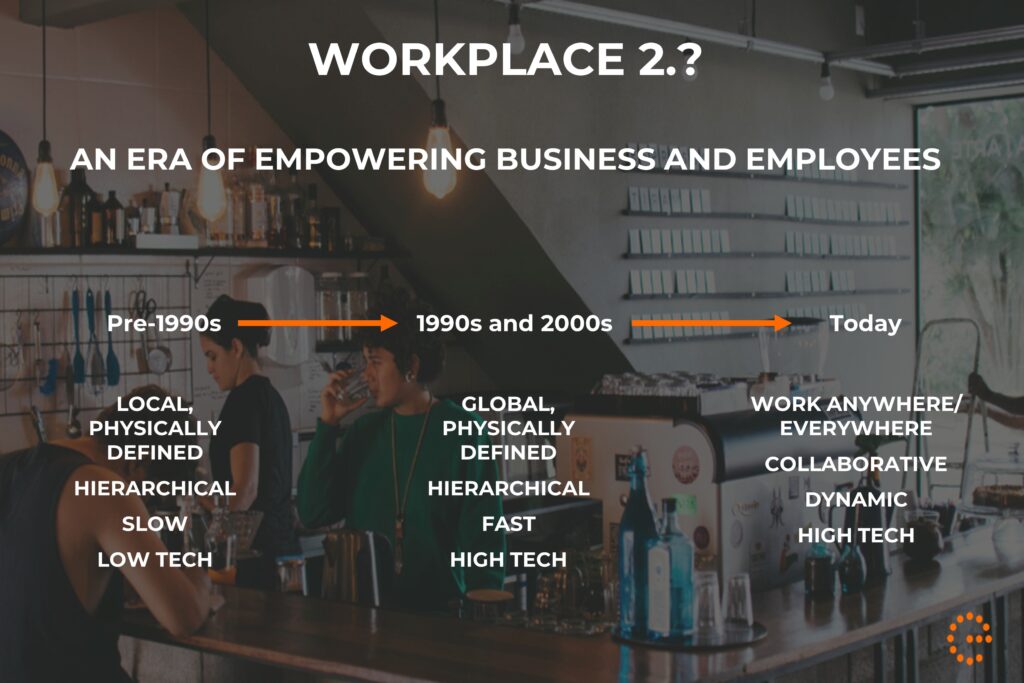 Working from Home
According to a recent Leger/ ACS survey conducted April 24-26 among those who are working, 46% are working from home as a result of COVID-19 restrictions. This is an unprecedented shift in the direction of remote working. We can surmise, however, that the shift is made up primarily of office workers and teachers. That said, it has empty many of our downtown cores.
Reflecting many of the views of those I have heard since social isolation started, the public has somewhat embraced remote work. Of those who have been forced to work from home, 69% would prefer to work at least a little more from my home after the crisis. Only 32% want to work much more often. Notably, three in ten want to return to their usual schedule. The appetite for working for home is also increasing according to the most recent survey (May 1-3).
ResearchCo also found that 65% at least moderately agree that they home to be able to work from home more often.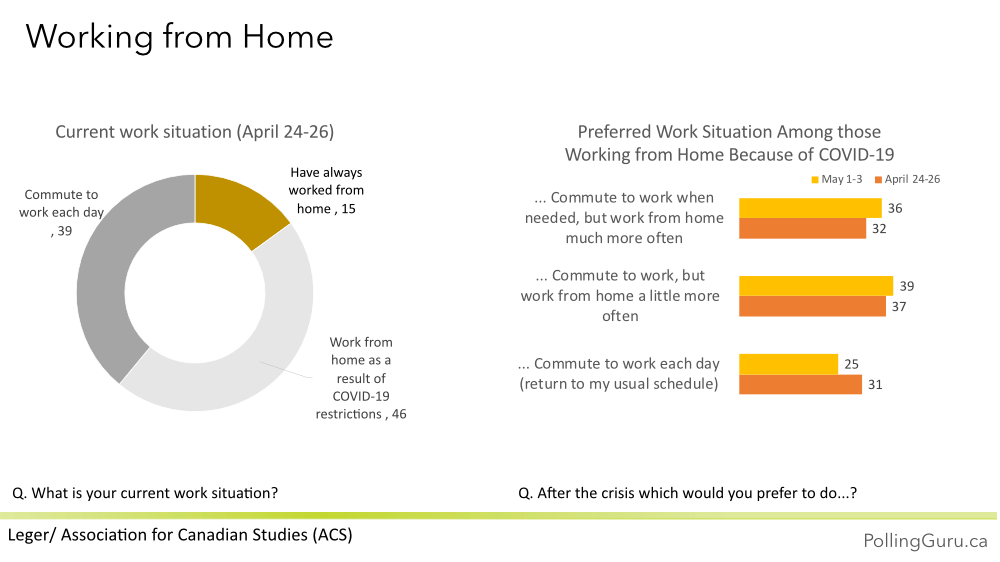 Likes and Dislikes about Working from Home
The COVID-19 workplace can tell us a lot about the post-COVID-19 workplace. ResearchCo in early April found that those who work from home have some conflicting attitudes. There is high agreement that their company trusts them to work from home (80% at least moderately agree) and that the company is equipped for work from home (69%). Not to say there is not needed improvement to the work from home experience. Only one in three working from home strongly agrees the company is equipped.
Although 6 in 10 agree that it has been easier than they thought it would be, there are clear downsides. A majority of people miss interacting with people. Just under half are having difficulty due to distractions.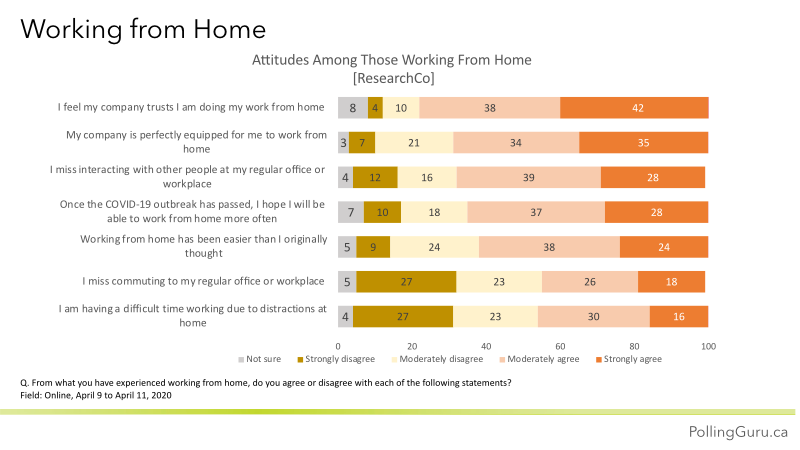 Implications
We are in the midst of a long concept test for working from home. COVID-19 shifted a lot of workers to remote whose jobs were not imagined to be remote. This is a hard test. Organizations and workers have adapted where necessary to allow for remote work. In fact many organizations were well underway in developing remote capabilities. This is, after all, a work anywhere, work everywhere world.
From the employees perspective, there is clearly a desire for more remote work. This is consistent with the overall experience that remote workers are having. No commuting and the benefits of focused time. Not everyone is sold. And, many would like more but not much more remote work. Giving more flexible work from home options in a post-COVID-19 world is probably an easy concession going forward. And, it is perhaps the most compelling salve to the mostly failed experiment of open-concept offices. It does not offer the possibility of dramatically reducing the footprint of traditional bricks and mortar businesses.
It is also not, however, clear who are the happiest with the remote experience. Are they the managers? Or those who tend to work on their own anyway? I have also not seen any feedback from employers about how the experience so far has been for the organizations. Are the productivity gains that are often associated with remote work evident? Are organizations already looking at getting back to normal?
A lot of work is not office work. The Leger study indicates that 39% of workers during the pandemic are commuting to a workplace. These jobs are clearly not moving remotely in a post-COVID-19 workplace. And, unfortunately, many of the jobs in retail, hospitality and tourism may not return at all.
---
Sources:
Leger/ Association for Canadian Studies (ACS), Online, Apr 24-26, 2020; n=1515
ResearchCo, Online, April 9 to April 11, 2020 , n=1000.
Angus Reid Institute, Online, Apr 15-17, 2020; n=1912