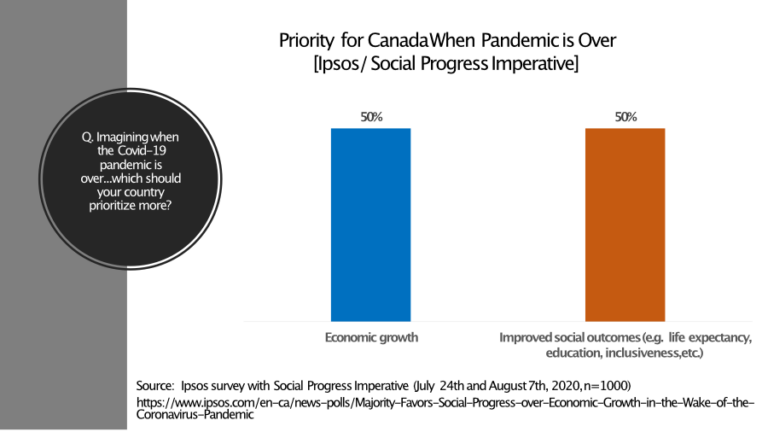 Canadians are divided about what should be the post-pandemic focus. Half want to prioritize social progress (improved social outcomes). The other half want to focus on economic growth. These are the findings of an Ipsos survey conducted with the Social Progress Imperative at the end of July. The Canadian results are in line with the results from the United States (48% social progress) and the United Kingdom (49%).
At the time of the survey, many of Canadian businesses had re-opened in some form and the economy has bounced back a little. When asked which to focus on during the pandemic a large majority choose health and well-being (79%) over economic growth. So economic growth becomes a much larger priority after the pandemic.
Is there work needed on the social progress side of the equation? The pandemic definitely exposed issues in long-term care homes. The negative social and economic impacts of the pandemic were also not equally distributed. Lower income Canadians were more at risk of getting COVID-19 but they were also more impacted by the economic disruption. Finally, the pandemic threatens to seriously impact the participation of women in the economy.
Since many of these are also economic impacts, choosing one priority is likely not easy. We can expect many respondents leaned on shortcuts to find an answer. Do I need economic growth for my own economic success? Do I support a more active social welfare system?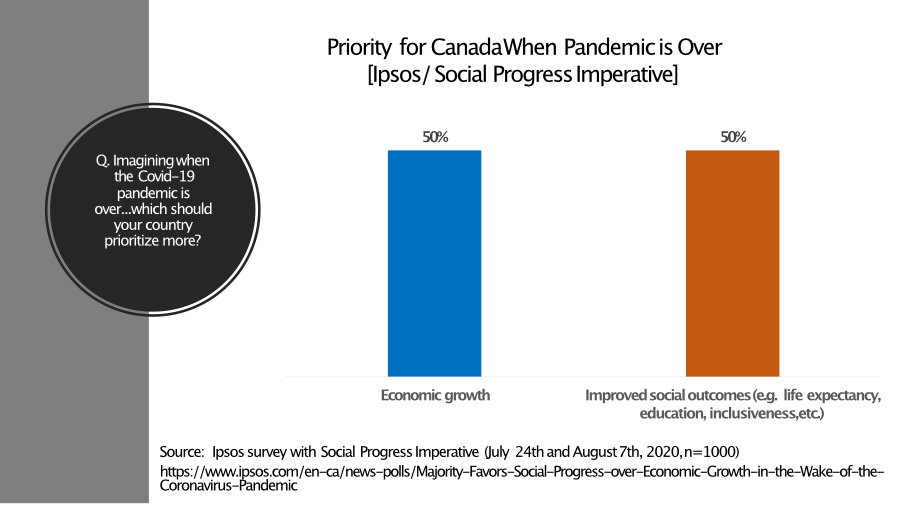 ---
Ipsos survey conducted online with the Social Progress Imperative (July 24th and August 7th, 2020, n=1000). Report.