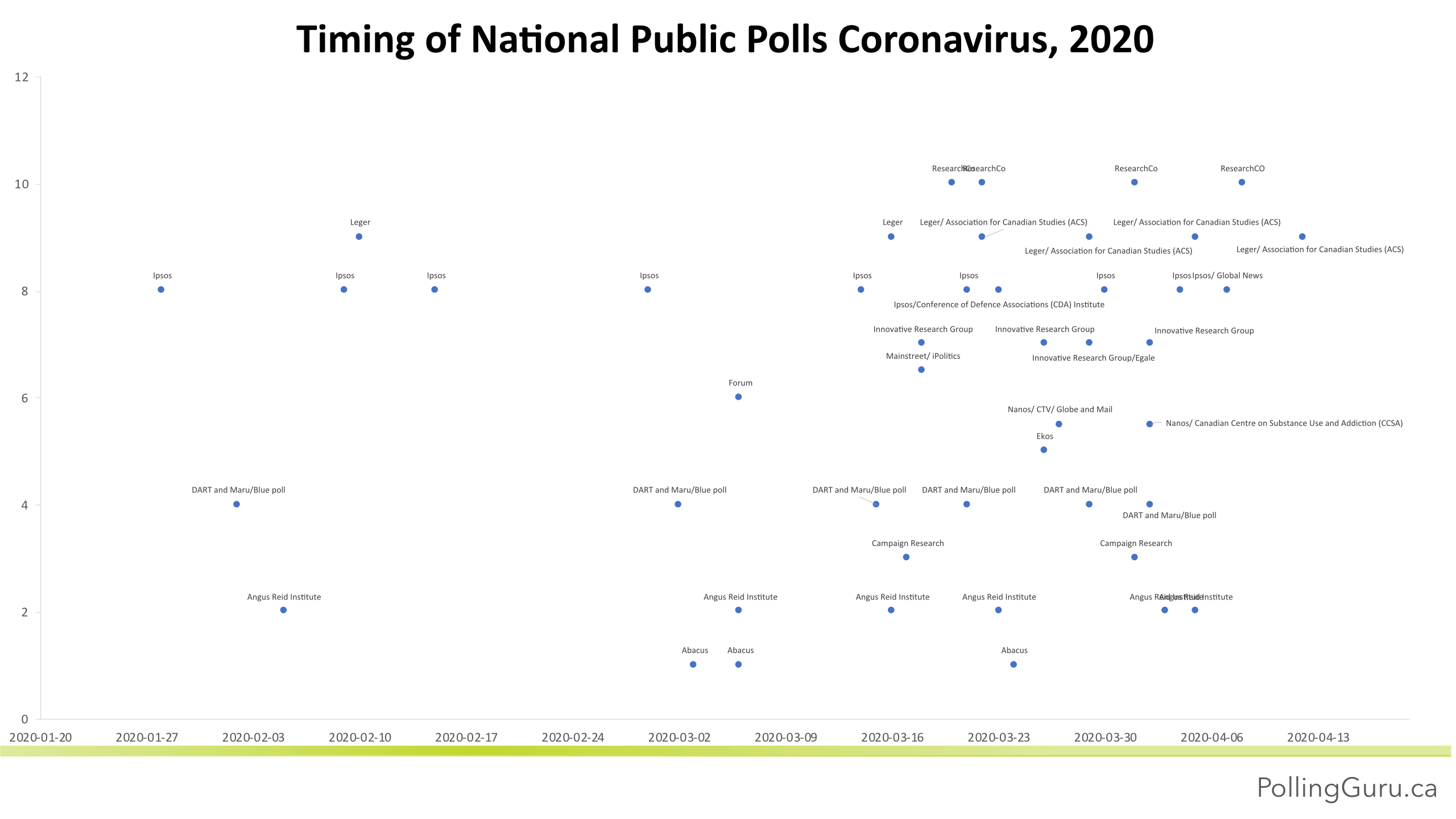 2020 will be the year of COVID-19 polls. As the Coronavirus spread throughout Canada, polling companies expanded their soundings of public concern, approval of government actions, impact of the virus and expectations for the future. Below are the national polls released, along with the sponsor or media outlet associated with the poll if there is one.
For a review of how public concern has changed over time in these polls see our analysis. The overall concern has flattened according to recent polls after swiftly rising. The posts based on COVID-19 polls are indicated below: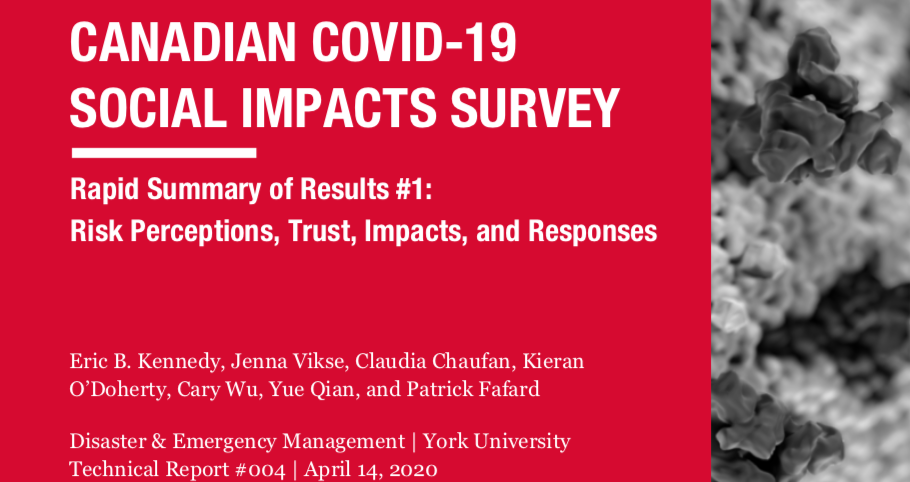 For an academic led initiative on the COVID-19 public impact, see the report by clicking on the link on the left.
Kennedy, E. B., Vikse, J., Chaufan, C., O'Doherty, K., Wu, C., Qian, Y., & Fafard, P. (2020).Canadian COVID-19 Social Impacts Survey. Rapid Summary of Results #1: Risk Perceptions, Trust, Impacts, and Responses (York University Disaster and Emergency Management Technical Report #004). http://dx.doi.org/10.6084/m9.figshare.12121905
| | | | |
| --- | --- | --- | --- |
| Date of first release | Polling firm/ sponsor | | Mode, field dates, sample size |
| 30-Jan-20 | Ipsos | | Online, Jan. 27-28, 2020, n=1402 |
| 04-Feb-20 | DART and Maru/Blue poll | | Online, January 31-Feb 2, 2020; n=1513 |
| 05-Feb-20 | Angus Reid Institute | | Online, Feb 4-5, 2020; n=1354 |
| 06-Feb-20 | Ipsos | | Online, Feb 7-9, 2020, n=1000 |
| 13-Feb-20 | Leger | | Online, Feb 7-10, 2020; n=2364 |
| 18-Feb-20 | Ipsos | | Online, Feb 14-15, 2020, n=1000 |
| 04-Mar-20 | Ipsos | | Online, Feb 28-29, 2020, n=1000 |
| 04-Mar-20 | Abacus | | Online, Feb 28-Mar 3, n=1475 |
| 07-Mar-20 | DART and Maru/Blue poll | | Online, Mar 2, 2020; n=1513 |
| 08-Mar-20 | Abacus | | Online, Mar 3-6, 2020; n=1500 |
| 08-Mar-20 | Forum | | IVR, Mar 3-6, 2020; n=1112 |
| 11-Mar-20 | Angus Reid Institute | | Online, Mar 5-6, 2020; n=1512 |
| 17-Mar-20 | Ipsos | | Online, Mar 12-14, 2020, n=1000 |
| 17-Mar-20 | Angus Reid Institute | | Online, Mar 13-16, 2020; n=1593 |
| 18-Mar-20 | Campaign Research | | Online, Mar 13-17, 2020; n=2306 |
| 19-Mar-20 | DART and Maru/Blue poll | | Online, Mar 13-15, 2020; n=1514 |
| 19-Mar-20 | Leger | | Online, Mar 13-16, 2020; n=1538 |
| 20-Mar-20 | Innovative Research Group | | Online, Mar 16-18, 2020; n=1200 |
| 21-Mar-20 | ResearchCo | | Online, Mar 19-20, 2020; n=1000 |
| 24-Mar-20 | Ipsos | | Online, Mar 19-21, 2020; n=1000 |
| 24-Mar-20 | ResearchCo | | Online, Mar 21-22, 2020; n=1000 |
| 24-Mar-20 | Leger/ Association for Canadian Studies (ACS) | | Online, Mar 20-22, 2020; n=1508 |
| 24-Mar-20 | Mainstreet/ iPolitics | | IVR, Mar 16-18, 2020; n=1665 |
| 25-Mar-20 | Angus Reid Institute | | Online, Mar 20-23, 2020; n=1664 |
| 25-Mar-20 | DART and Maru/Blue poll | | Online, Mar 20-21, 2020; n=1514 |
| 25-Mar-20 | Abacus | | Online, Mar 20-24, 2020; n=2309 |
| 26-Mar-20 | Ipsos/Conference of Defence Associations (CDA) Institute | | Online, Mar 20-23, 2020; n=2002 |
| 26-Mar-20 | Innovative Research Group | | Online, Mar 24-26, 2020; n=2411 |
| 27-Mar-20 | Ekos | | IVR, Mar 19-26, 2020, n=2304 |
| 30-Mar-20 | Nanos/ CTV/ Globe and Mail | | Online, Mar 24-27, 2020; n=1013 |
| 31-Mar-20 | Leger/ Association for Canadian Studies (ACS) | | Online, Mar 27-29, 2020; n=1508 |
| 01-Apr-20 | Nanos/Bloomberg | | Online, Mar 24-27, 2020; n=1013 |
| 01-Apr-20 | DART and Maru/Blue poll | | Online, Mar 27-29, 2020; n=1520 |
| 01-Apr-20 | Ipsos | | Online, Mar 26-30, 2020; n=1000 |
| 02-Apr-20 | Campaign Research | | Online, Mar 31-Apr 1, 2020; n=2659 |
| 03-Apr-20 | Innovative Research Group | | Online, Mar 31-Apr 2, 2020; n=1500 |
| 06-Apr-20 | Angus Reid Institute | | Online, Apr 1-3, 2020; n=2162 |
| 06-Apr-20 | Innovative Research Group/Egale | | Online, Mar 24-29, 2020; n=2000 |
| 07-Apr-20 | ResearchCo | | Online, Mar 30-Apr 1, 2020; n=1000 |
| 07-Apr-20 | Leger/ Association for Canadian Studies (ACS) | | Online, Apr 3-5, 2020; n=1512 |
| 07-Apr-20 | Nanos/ Canadian Centre on Substance Use and Addiction (CCSA) | | Online, Mar 30-Apr 2, 2020; n=1036 |
| 08-Apr-20 | Ipsos/ Global News | | Online, Apr 3-7, 2020; n=1000 |
| 08-Apr-20 | Ipsos | | Online, Apr 2-4, 2020; n=1000 |
| 08-Apr-20 | Angus Reid Institute | | Online, Apr 1-5, 2020; n=4240 |
| 08-Apr-20 | Pollara | | Online, Mar 26-30, 2020; n=1531 |
| 10-Apr-20 | DART and Maru/Blue poll | | Online, Mar 31-Apr 2, 2020; n=1000 |
| 14-Apr-20 | Leger/ Association for Canadian Studies (ACS) | | Online, Apr 9-12, 2020; n=1508 |
| 14-Apr-20 | Kennedy, E. B., Vikse, J., Chaufan, C., O'Doherty, K., Wu, C., Qian, Y., & Fafard, P. | | Telephone, Mar 20-Apr 8, 2020; n=2029 |
| 16-Apr-20 | Ipsos | | Online, Apr 9-12, 2020; n=1000 |
| 14-Apr-20 | ResearchCo | | Online, Apr 6-8, 2020; n=1000 |
| 17-Apr-20 | ResearchCo | | Online, Apr 9-11, 2020; n=1000 |
| 20-Apr-20 | Angus Reid Institute | | Online, Apr 15-17, 2020; n=1912 |
| 21-Apr-20 | Leger/ Association for Canadian Studies (ACS) | | Online, Apr 17-19, 2020; n=1504 |
| 21-Apr-20 | ResearchCo | | Online, Apr 13-15, 2020; n=1000 |
| 23-Apr-20 | Innovative Research Group | | Online, Apr 20-22, 2020; n=2025 |
| 27-Apr-20 | Ipsos | | Online, Apr 16-19, 2020; n=1000 |
| 28-Apr-20 | Leger/ Association for Canadian Studies (ACS) | | Online, Apr 24-26, 2020; n=1515 |
| 28-Apr-20 | Abacus | | Online, Apr 19-24, 2020; n=2481 |
| 28-Apr-20 | ResearchCo | | Online, Apr 20-22, 2020; n=1000 |
| 29-Apr-20 | DART and maru/Blue | | Online, Apr 26, 2020; n=1530 |
| 2-May-20 | Nanos/CTV?Globe and Mail | | Online, Apr 25-27, 2020; n=1039 |
| 5-May-20 | Leger/ Association for Canadian Studies (ACS) | | Online, May1-3, 2020; n=1526 |
| 6-May-20 | ResearchCo | | Online, Apr 27-29, 2020; n=1000 |
| 8-May-20 | ResearchCo | | Online, May 1-3, 2020; n=1000 |
| 12-May-20 | ResearchCo | | Online, May 4-6, 2020; n=1000 |
National Publicly Released COVID-19 Polls